The modern, fresh tv network.
iPad Mac Desktops Notebooks
IN 51 COUNTRIES DAILY!

Mships DIRECTORY
EVERY ONE IS A FRESH TV CHANNEL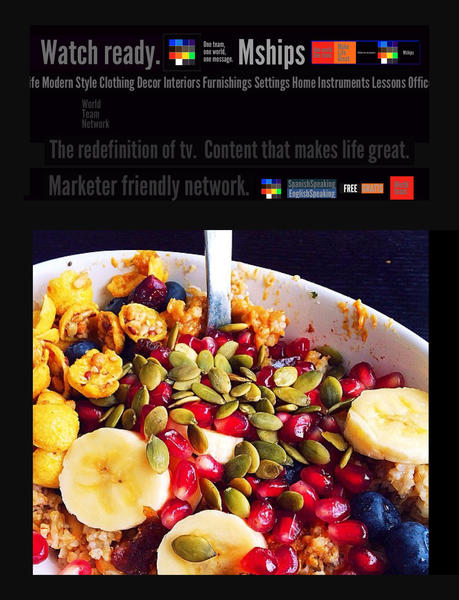 Instagram Accounts Of Our TEAM COOKING #Qianzhangg #SelfieSalads #TheFruitfulFoodie BEATS MiddleChild813 BEATBOX #KennyBbx GRAFFITI #MadeOneNCN #IFrickenLikeApples TATTOOS #SlayOner ARTISTS #RuthHarty #JeonHasa #JustineFisher MENS #AnthCamps #JonathanErbe DECOR #PZang EAST LONDON #GuideCris SKATERS Sean_Bolis CLOTHING IReyLifeLivin_Ill YOUTH IllCleanup SURFERS Parkour Dads CLOTHINGLINES CAUSES

NOW LAUNCHING LOCATIONS!
Montecito SantaBarbara Malibu LosAngeles London Moscow Paris Singapore Parkour AirGuitaring RockNRoll Friendly OneWorld Kids Boys Girls OneTeam Teens Shanghai EastLondon KingsRoad Banglatown ChangeTheWorld Love Befriend Team HowToBe Hot Deals OneTeam StreetArtists Graffiti BeatBoxers ClothingLines Style Decor Oatmeals Coffees Teas Inns Bags Knits Sweaters Chais Wraps TheFunkZone EastLondon Burgers Pizzas Salads Healthy Snacks Meals Friendly Clothing Guides Beards Mens Motorcycles Drinks Teas Teens Comics Kids OneWorld Cartoons Characters Monsters Crazy Contests Fun Toxic


FIRST EDITIONS
JeonHasa

NEW NEW NEW NEW NEW Mships is the FRESH MODERN TV NETWORK! GET YOUR FREE CHANNEL GUIDE Here!! 1,000 AWESOME CHANNELS! Mships is created by ONE TEAM WORLDWIDE, EARNING 50% OF THE MARKETER MONEY. There is no middleman.

CHANNELS CHANNELS CHANNELS CHANNELS CHANNELS NEW!! CONTESTS!!!! Parkour BeatBox Graffiti Art Tattoos GraphicNovels SuperHeros Cartoons Comics MotorCycles Music Rock Tv Clothing Style Mens Bears Guides London Cooking Decor Tattoos Graffiti Learn Cut the CORD! 1,000 FREE CHANNELS: Dads AirGuitar LunchBags DanceMoves RockNRoll Optimism Comedy OneTeam New UpAndComing Artists ComicBooks SuperHeros Crazy Wacky Wacko Toxic Psycho Cartoons Comics Nutty Monsters Zentangle Graffiti StreetArt Deck Pop Dope Fresh Tattoos Team RockNRoll Hits Popular AirGuitar Instruments Drums Guitars Lessons Mens Beards Grooming Combs HairStyles Clothing FitnessClothing HairStyle Now Auditioning Tv Scripts Movies Stories Comedy Musicals Acapella Original BeatBox Dance Food Cooking Sports Weather Parenting Dads Sons LunchBags Snacks Recipes DanceMoves Drums Healthy Eats Burgers Salads Beer Style Art MiniArt Zentangle Decor Interiors Furnishings Settings CenterPieces Instruments Lessons Home Performances Offices Courses Mens Womens Sweaters Poetry SongWriting Music Rock Pop Dance Music Skills Tips Performances Concerts Beats Songs Anthems Lullabies Lyrics Artists Doodles Zentangle WordArt KoreanArt Dancheong Dragon Tiger Birds Skulls Slaps Stickers Decals Comics Murals AnimalArt Writers Stories Scripts Classes HowTos Succeed Be Gorgeous Nice HighValue Fresh Chillax Calm Relax Heal Balance BeYou Love Care Heart GirlPower Clueless Appreciate Give IBelieveInYou Talents Causes 100 MotorCycles Cars Hybrids KeyChains Advertisers New UpAndComing Now Auditioning StreetArt Graffiti Pens Markers Benevolent Love Pencil Notes Letters MiniArt Cups Coffees Bunnies Kids Childrens LittleGirls YoungGirls IBelieveInYou Tv Cartoons Boys Stories Special Meaningful HighValue BeYou Messages Cheers StrongWomen SmartWomen HowToBe Geniuses HowTo Succeed BeYourself Help Care Love Heal Be Awesome CupCakes PopConcerts Schools Talents Causes Challenges MakeLifeGreat MakeSchoolSafe OneWorld Services Eats Guides London EastLondon Banglatown BrickLane Boulder Skills DrumMachines DanceCrews StreetWear FitnessWear Developers Genius Great Strong Chefs Male Reinforce Support Power Consensus Guys NiceGuys GoodGuys Be Awesome BeYourself 100 Succeed CHANNELS CHANNELS CHANNELS CHANNELS CHANNELS

MARKETERS MARKETERS OuterWear Mens Colognes Hybrids NewProducts ClothingLines MARKETERS MARKETERS MARKETERS

THE MODERN NETWORK Mships Marketer friendly, popular, modern, mainstream multiplatform tv network. Watch ready. Mships is the NEW Tv. Available on iBooks. FREE in 51 Countries! Marketers PAY for credit! Royalties are 50% TO THE TEAM! JOIN THE TEAM!! ADDING FRESH AWESOME TEAM MEMBERS DAILY! THE WORLD'S GREATEST TEAM AND NETWORK One team.

CHECK OUT THIS ARTICLE on the
WORLD of Graffiti Artists On CNN!
"Life's a song." RF

Mships ©2015 Content that makes life great.
The new tv. Next generation tv.
The reinvention of tv. One team.